Company Information
We Are the Pakistan's First and Only ISO 9001-2008 Certified Company for Himalayan's Salt Crafts
Anaya Salt Crafts is
established since 2001
with the mission to meet the highest standards in manufacturing & supplying quality of Himalayan Salt Lamps and Related Products all over the world has modified its name with the
registered Logo
of Anaya art & Crafts. Anaya Art & Crafts has a manifesto of working hard, devotedly, responsibly and conscientiously to render prompt, timely, effective and cost-controlled integrated services in the field of manufacturing to exports.
What We Do
We are
manufacturer and exporters
of Himalayan Rock Salt Products from Pakistan located right in the foothills of Khewra mines. We have a
stringent quality control program
in the process from mining to shipment, to enhance the future needs of market expanding globally day by day.
No child labor is used
. Environment friendly organization, client oriented management and skilled workforce striving hard to satisfy the market needs professionally.
Our Services
We provide all ranges of Himalayan Natural Salt products at
competitive prices
with Quality of customer care services. Our
Products Range
Includes,
Natural Salt Lamps

,

Crafted Salt Lamps

,

Fancy Flower and Animal Salt Lamps

,

Rock Salt Tea lights and Candle Holders

,

Rock Salt Tiles and Sauna Rooms

,

Bath Salts

,

Massaging Soaps

,

Edible Salt (Table Salt)

,

Cooking Salt

,

Industrial Salt

,

Animals Licking Salt

, and Etc.
We invite you to
compare our quality of work
on these stones and find the difference. Our salt lamps can be shipped any where in the world and are suitable for use anywhere in the house. Try yours in the bedroom, living room, dining room, hallway, meditation room, or anywhere else even in child's room. Consider placing one near your television or computer. It even helps improve the
quality of air
around smokers.
We also make
custom shapes and designs
according to the given dimensions. Our experienced crafters make Salt lamps exactly to the given diagrams. You can add one of yours in the great variety of different beautiful shapes of Salt lamps and Candle holders.
Anaya Salt Crafts management will appreciate and
encourage your ideas and suggestions
in order to accommodate its valuable clients at its best and to find measures to build more peaceful and prosperous relations. If you have any query or need more information, please feel free to contact us..
Himalayan Salt Introduction
Himalayan Rock salt has therapeutic powers that help to heal as well as provide
84 minerals
and trace elements for your body.
Is human life without salt imaginable? Probably not. Salt symbolizes life itself. Many
Basic physiological
functions depend on a balance between
salts and liquids in our body
. When the balance is upset, disease may occur.
Himalayan salt can help with this balance
.
Salt has been an
essential, virtually omnipresent, part of medicine
for thousands of years. It has been used as a remedy, a support treatment, and a preventive measure. It has been taken internally or applied topically and been administered in an exceedingly wide variety of forms. Salt is mentioned as an
essential ingredient
in medical science in some of the oldest medical scripts in Egyptian and Greek medicine. Hippocrates mentions inhalation of steam from salt-water. We know today that the anti-inflammatory effects of inhaled salt provide relief from
respiratory symptoms
. Rock salt was used in ancient Roman medicine for
skin diseases, infections, ear-ache, digestive upsets, and sciatica
. Salt water baths in
Renaissance medicine
were seen as a
superb remedy for skin diseases and itching.
Himalayan Crystal Salt is the
purest salt on earth
. These deposits, created at the foothills of the Himalayan Mountains, were formed 250 million years ago in ancient oceans and are
untouched by pollution
. These crystals contain the
perfect ratio of minerals and trace elements
, as well as the highest mineral concentration of any known salt with 84 minerals and trace elements that are extraordinarily bio available to the human body.
Salt therapy
has been used successfully for centuries.
Gentle saline therapy
has been soothing inflammation and boosting respiratory health since ancient times. These time-proven
breathing remedies
include "wet" salt therapy such as the neti pot (sinus cleansing and irrigation) or salt water gargling (healing throat and mouth irritation) and "dry" salt therapy.
Millions and millions of years ago, with the formation of the Wonderful Himalayan Mountains, came the existence of Himalayan
Mineral Salt Crystals
.
The Himalayans are the world\'s most tranquil, serene, peaceful and undeveloped region; therefore the salt crystals mined from the foothills of the
Himalayas are still pure and untouched by pollution
Very High pressure and heat refines the structure of the salt crystals and make them translucent. In comparison with other like European salt lamps, which are dull and opaque? When mining the salt at the Himalayans, use of dynamites is strictly prohibited to preserve the structure of the crystals.
Mining by hand is a painstaking and expensive process.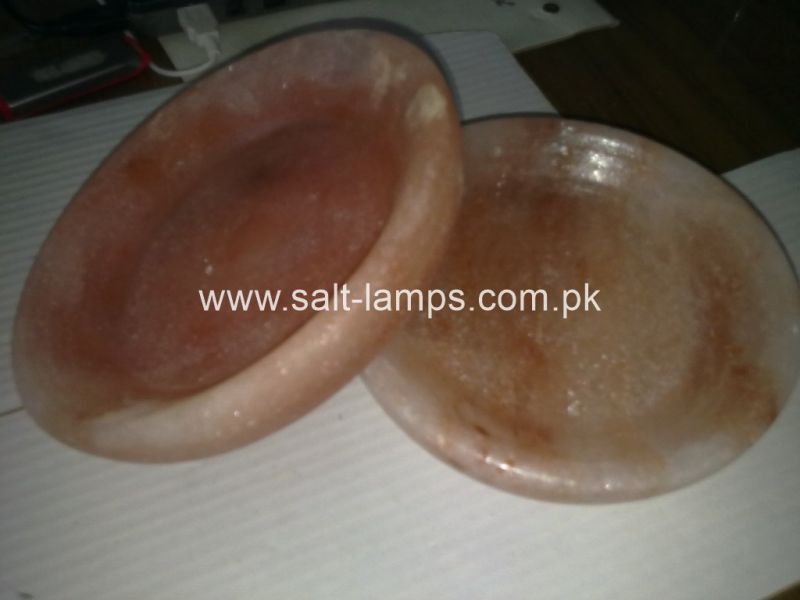 Himalayan Rock Salt Tiles, Bricks, Blocks and Cooking Slabs:
With the passage of time, science has invented so many things like Computers, Televisions, and Mobiles etc. but with these inventions also have
some side effects
on our lives… They emit
positive ions
in the Air in which we breathe and the water we bath in, due to which
many diseases and skin problems are on rise.
These health issues are very serious and they transform into more dangerous diseases like
asthma, allergies, skin diseases etc.
How to Neutralize the Effects of Positive Ions:
"Speleotherapy" is the
most natural way
used in human history
to benefit respiratory system
, skin diseases and immune system disorders by venturing deep into salt saves, but again with this busy life routine it's not easy to venture deep into salt caves on regular basis. So how can we really get involved into Speleotherapy easily? The answer is simple, by making
Himalayan Crystal Salt
part of your life. Himalayan Crystal Salt emits negative ions which neutralize the negative effects of positive ions.
Himalayan Salt Bricks and Tiles:
Himalayan Salt Caves are getting very popular for
Speleotherapy
. Himalayan Salt Bricks and tiles are widely used in spa, gyms and yoga rooms as well as for decorative purposes, not only this but you can make your meal more delicious than ever before by
cooking health food
on Himalayan Salt Plates and Cooking Slabs.
Cooking On Our Himalayan Cooking Slabs:
If you want to cook on your salt block, make sure it's
at least 1.5 inches thick
, preferably 2 inches thick. We work with local producers in Pakistan to make sure the blocks are made from
high quality salt crystals
. All blocks have some imperfections, but we grade all of our salt blocks by hand to help ensure your cooking experience is problem free.
Heating your salt block is the most challenging part.
The number one rule is - Go Slowly!
Salt is a relatively soft cooking surface. As it heats, it will
naturally develop cracks and crevices
. These will grow overtime, until the block breaks. The slower you heat it, the longer it will last. This is especially important the first few times you use your block.
Place your block over a gas range or grill. If you have an electric stovetop, use a
metal ring
(such as a tart pan with a pop-off bottom, or wok ring) to lift the block off the burner. Start by heating the block on the
lowest possible setting
, for at least 15 minutes, until the block has
warmed to about 200°F
. After this, increase the heat increment about every 10 minutes, from
low to medium and from medium to high
. If you\'re not sure, go slower. It will take at least 35 minutes to heat. If your block is larger than 8x8x2 in, it will take a longer time to heat up. Smaller blocks will heat faster.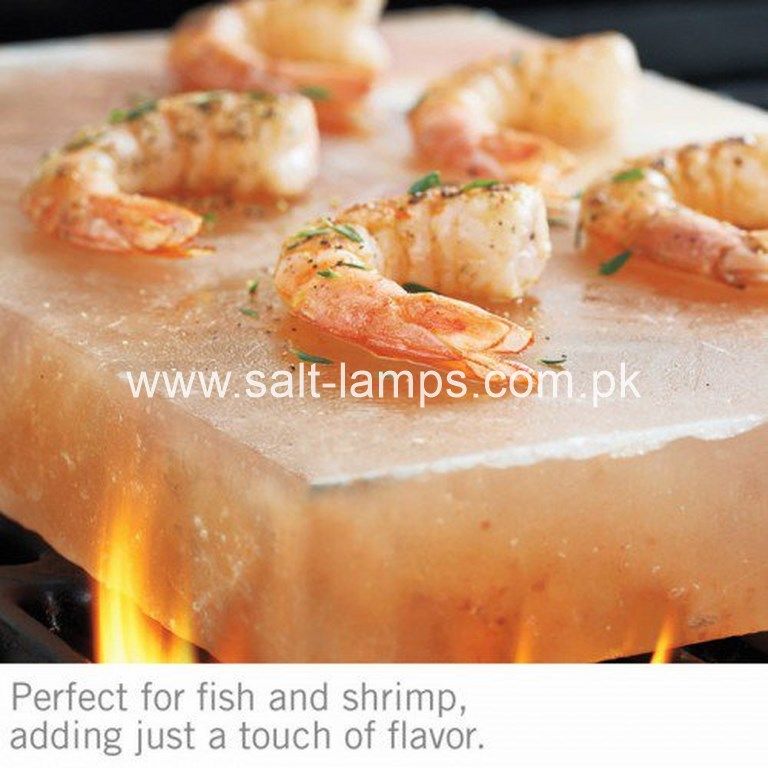 When the block is heated to at least 500°F, place thin strips of steak on it. If you cook on a salt block that is not hot enough,
not only will you over-salt your food, but it will also degrade your block much faster
. If you don\'t have an infrared thermometer, simply sprinkle a few drops of water on the block. If they
sizzle vigorously
and disappear immediately, the block should be hot enough for cooking. Or try to hold your hand two or three inches above the block. If you can\'t, it's hot enough.
Make sure to
cut thin slices
, as steak is fairly moist and will pick up salt quickly. The effect of the salt on the food will depend on a variety of factors -
moister, fat content, thickness, and the temperature of the block.
Moister in the food will pick up salt faster, while fat will repel the salt.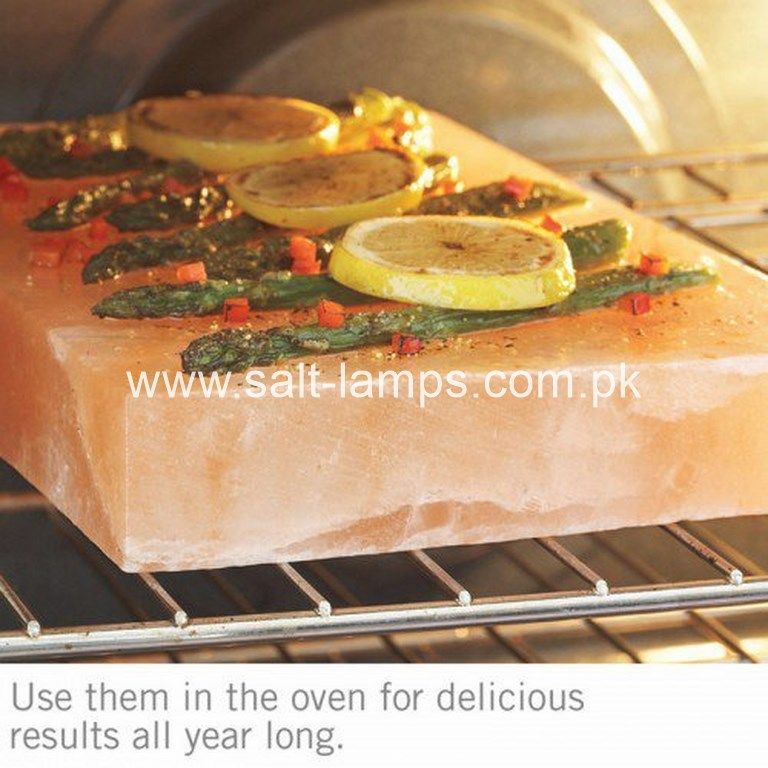 Use a thin
metal spatula
- don\'t use plastic. For medium-rare, it should only takes about 5 seconds to cook each side. The cook time depends on how thick the steak is and how hot you heated the block. If this is your first time cooking with Himalayan salt, we recommend cooking one piece at a time to make sure everything is right. Once you\'re comfortable, put on as many pieces as the block can hold without the pieces touching.
Shapes and Sizes for Salt Tiles:
All size and shapes of Himalayan rock salt tiles and bricks are available with us. Including the Natural one cut stones, natural two sides cut stones. Rock salt lumps in one side cut or as in natural shape. We also make
custom shapes and designs
also in the rock salt blocks.
Mostly, we make Himalayan Salt Tiles in Red, pink, Orange, grey, and snow white colors.
The cutting corners and angels of our salt tiles and blocks are accurate
due to our new machinery and expert craftsman.
We have also built many caves
with the co operation of our European Friends.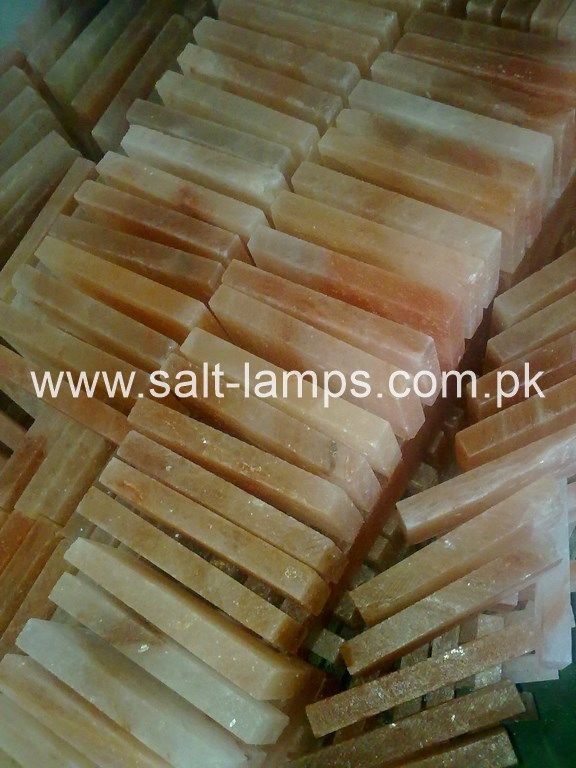 Packaging:
Standard quality carton boxes with

polythene wrapping

. We also pack Salt lamps & all other products in Customers Brand Boxes. Labeling is also offered. Pallets & containers available.