ANAYA SALT CRAFTS IS PAKISTAN\'S ONLY ISO 9001-2008 CERTIFIED COMPANY.
We are Anaya Salt Crafts
Leading Manufacturer and Exporter
of Himalayan Salt Goods with Best Quality at very competitive prices
,
for
the customer's satisfaction. Our Pure Himalayan Salt is completely natural, unprocessed and untreated, this hand washed and sun dried salt comes from an ancient unpolluted primordial ocean that once existed in what we now call the Himalayas. Having crystallized over millions of years, Pure Himalayan Salt contains the
same minerals
that we humans require to fuel our bodies. Once Pure Himalayan Salt is ingested our bodies automatically recognize this rich mineral content as if remembering our commonality and recognizing such easily absorb the precious minerals.
Himalayan crystal salt is one of the
purest organic
salts on this planet. It contains 84 minerals and trace elements essential for human body growth and well being. More interesting aspect regarding mineral contents in Himalayan crystal salt is that the human's body already contains the same minerals almost in the same proportion. Himalayan crystal salt replenishes
the mineral requirements of our bodies
in a natural and safer way. Himalayan crystal salt offers numerous health benefits to mankind as well as all the living creatures including those of live stock and animals.
If you are interesting in selling our products online in your area you can contact us at
or
our franchise department will be happy to coordinate with you.
About Himalayan Salt:
The Himalayan Mountains weren\'t always there. At one time this chunk of real estate was on the bottom of the ocean some 250 million years ago. Around that time, India was moving towards Asia and collided with it. The two land masses converged pushing the ocean floor upward as the ocean floor raised a large salt lake formed. Eventually, water evaporated and left massive amounts of salt behind. This became the great Salt Range in India and Pakistan. This crystal salt contains minerals and trace elements in proportion common to that particular region. Himalayan salt comes from deep within the Himalayan Mountains. Essentially it is a marine fossil salt that is believed to be 100 percent natural and unpolluted. Other than a light water washing, the crystal salt is unrefined. This salt has a sublime flavor with a crunchy texture that can be used raw and cooked.
Crystal salt deposits are found around the world and are the product of ancient oceans. So, crystal salts are all similar in structure and mineral content however, they can vary slightly in certain mineral content depending on their particular location. Even so, a location may produce different concentrations of minerals depending on the layer they were collected from. There are veins of color through the crystal salt that clearly indicate differences in composition. Some of these veins contain clay and other impurities. For that reason, crystal salt blocks are manually selected, inspected, and then crushed for human consumption. Small blocks are chosen, washed, and then sun-dried. Once the crystal salt is dried, it is hammered to create various size particles. The salt is then separated into coarse and fine salt.
Animal Lick Salt:
A mineral lick (also known as salt lick or natural lick salt) is a
natural mineral deposit
where animals in
nutrient-poor ecosystems
can obtain essential mineral nutrients. In an ecosystem, salt/mineral licks often occur naturally,
providing the sodium, calcium, iron, phosphorus and zinc
required in the springtime for bone, muscle and other growth in deer and other wildlife, such as moose, elephants, tapirs, cattle, woodchucks, domestic sheep, fox squirrels, mountain goats and porcupines. Harsh weather exposes salty mineral deposits that draw animals from miles away for a taste of needed nutrients. It is thought that certain fauna can detect calcium in salt licks.
Salt is
essential for horses and vital
for blood formation and digestion. Also,
salt is lost through sweating and exercise and needs replenishing
. Very little salt is used in manufactured feed, hence the need for daily access to salt as a supplement. Horses will
self-regulate their intake
, actively seeking salt if required and ignoring it if not.
When salt intake is below that required to meet the animal's need for sodium and chloride, the animal adjusts by
conserving salt
. Urine output of sodium and chloride nearly stops. A continuous low salt intake affects the health of animals through a loss of appetite and weight. Feed utilization decreases and it takes more feed per unit of gain or product produced. Animals soon develop a
craving for salt.
They may consume considerable amounts of dirt, wood, rocks and other materials, if they do not have access to salt blocks. Lactating animals are most susceptible to a salt deficiency because milk contains a considerable amount of sodium and chloride.
Animal Salt Licks on Rope and come in
1kg
to
3.5kg
sizes.
We also supply Block/Lump Type Salt Licks at
2kgs
to
30kgs
. (Custom Size's Available)
All salt is mined and
washed by hand
.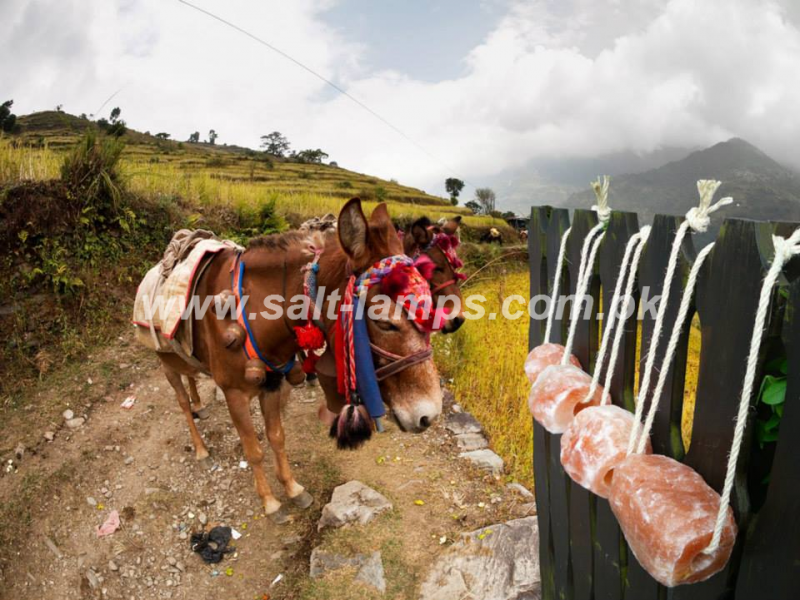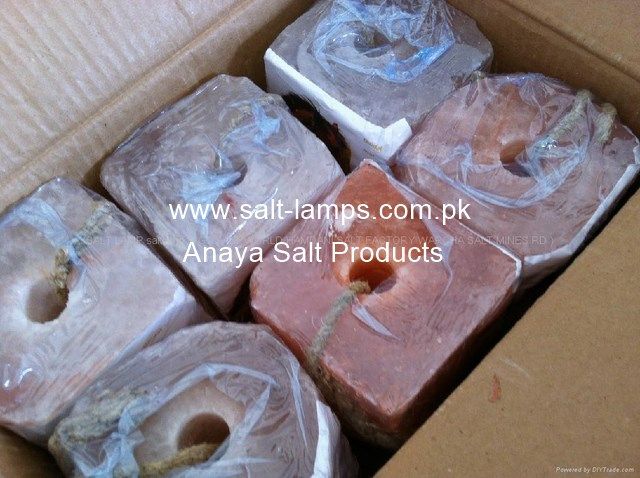 Packaging Details:
We use Nice quality 7ply strength Brow box packing for bulk supplies.

Custom Demanded packaging

,like individual boxes, color printed boxes, Salt licks with ropes, without ropes, shrink Wrapped. Also supplied on pallets.