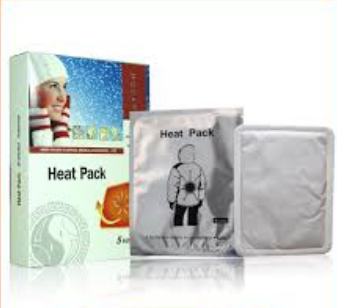 Product Introduce
 
Warmer pad, also named as HEAT PAD, WARM PATCH, WARM PACK, SELfHEAT PACK. This product used Japanese Advanced Technology. It is thin and soft. It is very easy to use. You just need to apply it the where you want to heat, it can give out heat at once. The highest temperature it can achieve is 58 degrees centigrade, and its average heat is 51 degrees centigrade. It can continually give out heat for 10 to 12 hours at least. It can relieve the pain on the waist, shoulder, stomach which was caused by the cold. When you go out in cold weather, it can keep you warm all the time. It is convenient for you to carry them along with you. It can continually give out steady heat. Only one piece can protect you from cold for a whole day !
The Warmer Pad is the latest high technology product. It is the ideal product to keep warm, relieve pain or detumescence. It is made of material bag, adhesive layer and non-woven fabrics bag. It give out heat fast, and can last long time. It is very good for people who have below problems: arthritis, scapulohumeral periarthritis, low back pain, leg pain, rheumatism and similar problems. It is also the best choice for you to keep warm in cold whether.
Product Structure 

 
The product is made up by Nonwoven fabric,Microbreathabel film,Heating pacel,Adhesive glue,Release paper. 
Product Details
 
Product name
  FDA certificate customized heating pad adhesive foot warmer pad                    
 Fever time
12 hours
Product size
7*9cm,10*13cm
 Average temperature
53°C 
GW
45-50g/PC
 Peak Temperature
65°C
Expired period
2

 years

Certificate 
FDA,CE.ISO,TUV,SGS
 
Bulk packing:1pc/bag,600bags/ctn or as requirement
Packing
Box packing:1pc/bag,10pcs/box or as requirement
Ingredient
iron powder, activated carbon, vermiculite, wood powder, salt, water
Shipping 
1. small quantity---- express,TNT,EMS DHL etc
2, large quantity----- by air or by sea 
Storage
Store in a cool place and avoid exposure to sunlight
Product Function
1) Supply warm for human body and hand in winter,can be attached to the low back,belly,
shoulder or any where warm need
2) Relief uncomfortable caused by menstrual for women
3) Relief the pain caused by arthritis,rheumatism,stomach trouble,cervical vertebra
 trouble and strain of muscles.
4) Its very convenient to use and safe, it is the best choice for you to defend cold.
How to Use
Step 1. Open the outer package and expose the pack the air
Step 2. Remove the paper back and adhere shet [atch to the clothing
Step 3. Dispose of used pouch with regular garbage,it is natural ingredients are convironmentally safe.NEVER USE IT DIRECTLY ON YOUR SKIN !
Step 4. After your using it, just remove it.
Attention
1.MUST APPLY THE WARMMER PAD ONTO THE OUTSIDE OF YOUR UNDERCLOTHES NEVER USE IT DIRECTLY ON YOUR SKIN ! 
2.THE WARMER PAD CAN ACHIEVE 58 DEGREES CENTIGRADE, AND IT CAN CONTINUELY GIVE OUT HEAT FOR 10 TO 12 HOURS, SO DO NOT USE IT WHEN YOU SLEEP IN NIGHT.
3.KEPT THE WARMER PAD IN SAFE SITUATION, DO NOT DAMAGE THE VACUUM PACKING.THAT WILL LEAD TO THE INSIDE MATERIAL LEAK.
Product Storage 
1.Store the product in dry place, avoid direct sunshine. Put the product in the place where children can not reach.
2.Do not always use Warmer Pad on the same position. (e.g. today use it on area A, then tomorrow you should not use the Warmer Pad on area A again, you should use it on area B.)