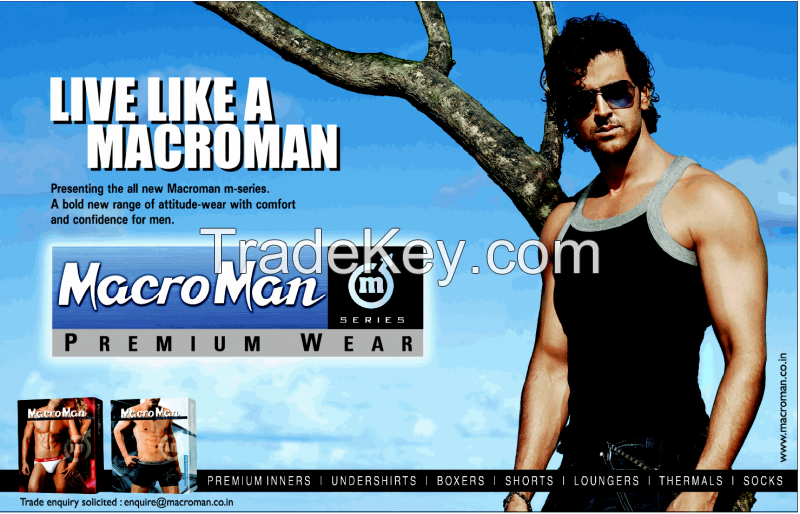 Rupa & Company based in Kolkata is the unquestioned No. 1 leader in Hosiery, Inner wear & Knitted garments sector in India.  
Rupa & Company has launched a very Premium and Supreme quality brand called Macroman M-Series and Macrowoman W-Series. Product line includes - Sports wear, Casual wear, Inner wear, Camisoles, T-Shirts, Vests, Thermals, Bras, Panties etc. Quality and designs are at per with the international brands present in the market like JOCKEY, DKNY and others. However we have positioned the brand in the mid-segment level as far as the pricing is concerned so that our customers can get the maximum value for money - The Ultimate quality and an Excellent branded product at a very reasonable price. 
We are looking for Importers / Distributors / Business partners for this Premium and Supreme quality brand in the Middle East, S E Asia, Africa, Australia, Europe and CIS. It will be our honour if we can partner with your company to promote the Brand in your respective market.  
Macroman M-Series has won the prestigious THE WORLDS GREATEST BRANDS 2015 ASIA & GCC, recently held in DUBAI.    
Our Macroman M-Series and Macrowoman W-Series will also be available very soon in the USA through some famous online stores like Amazon. Our trademarks are registered in more than 40 countries including the USA.  
Please advise if you would be interested in partnering with us for sales, marketing & promotion of this great brand in your market. We can assure you that with our Impeccable Quality & Design and your strong market presence, we can reach an enviable and a leading position in the market very soon.