FAUCETS
SIMPLE & ELEGANT
Simple & sophiscated design faucets, makes the space stand out
ROYAL&CO FAUCETS
The technical leadership in the faucet industry based on 47years reference
1st developer of Two handle lever, Single lever, Thermostatics, Automatic urinal flush valves in Korea.
Various line-up to meet various taste & purpose of users Well designed faucets for high class interior
Good interiorpoint faucets in bathroom and kitchen like swan faucets & LED faucets
 
Eco-products to meet both economical and ecological purpose
Continuous R&D investment for water saving faucets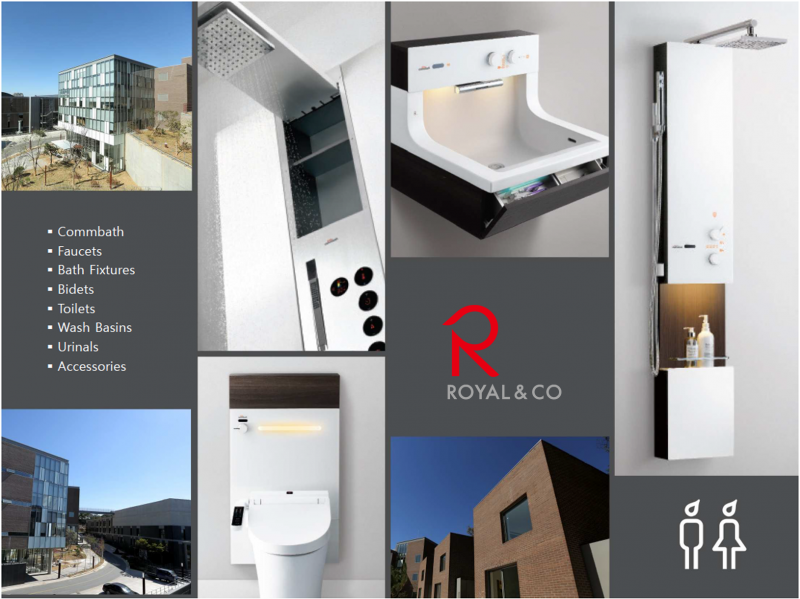 We, Royal & Co. LTD, are formerly known as ROYAL TOTO which is the most renowned bathroom brand in Korea
as the leading manufacturer and distributor with almost half centuries history background. 
We have been offering 500 products or more from faucets, thermostatic mixer,
smart or intelligent toilet seat, sanitary ceramic,
hand dryer and various bathroom accessories. 
We started the business in 1970, more than 49YEARS history company.

We cooperated with TOTO(JAPAN) for 28years as a joint venture.

We have HIGH QUALITY STANDARD to meet our customers requirement.

We proudly produce our faucets and taps, ALL MADE IN KOREA. 

We have our own factory with size 100,000m2 which is Koreas LARGEST and BEST FACTORY for faucets/taps.

We have more than 3 MILLION PCS OF YEARLY CAPACITY and they are all produced IN ONE PLACE.