Descripción del producto
Product Name: LED UVD Disinfection Box
Input: dc5v/1a
Power Consumption: 5w
Sterilization Duration: 3 minutes
Operation Temperature: 0-50
℃
Humidity of Working Environment: 20-90percent
Product Features:
This sterilizer is specially designed to disinfect small articles such as cell phones, keys, earring, earphones, mask etc.
Effectively kill 99.9 of bacteria and remove odor by 3 minutes disinfection times.
Magnetic induction switch prevents eyes and skin from exposure to LED UVC rays.
One control for easy operation
Smart, fashionable and travel friendly, it is best choice for small articles disinfection.
Using Method:
1. Connect to power by USB port at the back of the disinfection box and power turns red.
2. Open the lid and put articles to be disinfected into the box
3. Close the lid and press power Button to turn on the machine. with green ligt on, sterilization begins.
4. After 3 minutes, sterilization finishes with red light on.
5. If to suspend sterilization during working. press power to pause.
When the red and green flashes synchronously. It means a pause state until the 3 minutes work process is completed.
Due to the harmful effects of UVC rays, when the lid is opened, it will be in a pause state.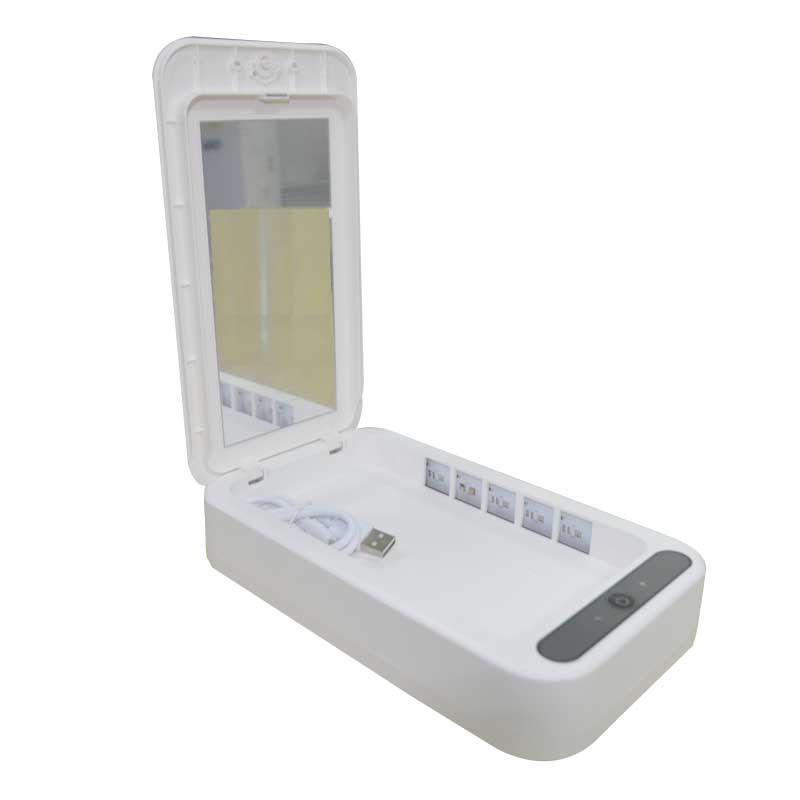 País:

China

N º de Modelo:

HYD-DD-003

Precio FOB:

( Negotiable )

(Negociable)

Obtener el precio más reciente

Lugar de origen:

China

Precio de pedido mínimo:

-

Cantidad de pedido mínimo:

1000 Set

Detalle de embalaje:

paper box

El tiempo de entrega:

7-15 Days

Capacidad de suministro:

1000 Set per Week

Tipo de pago:

T/T, L/C, Western Union, PayPal, Other

Grupo de productos :

Disinfection Device