***Bamboon fiber
| | | |
| --- | --- | --- |
| Item | bamboon fiber |   |
| Finess | 1.2d,1.4d,1.5d,3d,5d |   |
| color | raw white |   |
| packing | 220kg/bale |   |
| application | spinning yarn,fabric,garment,socks,towel |   |
Original bamboo fiber is also called as Natural Bamboo Fiber or Bio Bamboo Fiber, not Bamboo Viscose Fiber. Original bamboo fiber is the true natural fiber and belongs to bast fiber. Original bamboo fiber is directly obtained from natural bamboo by using physical and mechanical process without any chemical additive. The feeling and functional property of original bamboo fiber is similar to ramie, hemp, flax fiber etc, but anti-bacterial, deodorant and anti-UV properties from original bamboo fiber are stronger than them. The production flow of natural original bamboo fiber: Natural raw bamboo
bamboo strip → steaming of bamboo strip → crushing and decomposing → biological enzyme degumming → fiber carding →natural original bamboo fiber.
Principal length of original bamboo fiber is 90mm, it can be also cut as 38-40mm for cotton spinning system purpose or other length according to different purpose. Original bamboo fibers fineness is average NM1686 (around 6dtex) due to its production flow and method.
The following original bamboo fiber series products have been successfully developed and produced: pure original bamboo yarn, blended original bamboo yarn, original bamboo fabric, original bamboo socks, original bamboo towels, original bamboo beddings, original bamboo garment, original bamboo cap, original bamboo scarf, original bamboo nonwoven fabric etc. Appearance of natural original bamboo fiber is a new revolution in textile industries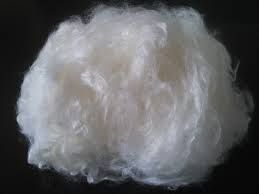 | | | |
| --- | --- | --- |
| Difference Between Original Bamboo Fiber & Bamboo Viscose Fiber |   |   |
| As we all know, bamboo fiber is made from bamboo, but lots of people dont know that bamboo fiber is divided into two kinds of fiber according to different process flow and method: Natural Original Bamboo Fiber and Bamboo Viscose Fiber (namely bamboo pulp fiber or viscose fiber from bamboo — regenerated cellulose bamboo fiber). Original bamboo fiber is directly obtained from natural bamboo by using mechanical process without any chemical additive, original bamboo fiber is the true natural bamboo fiber. In order to differentiate from bamboo fiber in current market (bamboo viscose fiber or bamboo pulp fiber), we call it as Original Bamboo Fiber or Natural Bamboo Fiber or Bio Bamboo Fiber. Bamboo viscose fiber belongs to regenerated cellulose fiber of chemical fiber. |   |   |
|   |   |   |
Ecological feature of bamboo fiber
Bamboo viscose fiber resource can be regenerated and be iterated, having no pollution or lesser pollution in the processing and having no harm to human body. The products can be degraded naturally, having no pollution to the environment. Bamboo as raw material has a short period growth for 2 or 3 years old. Therefore, bamboo is a regenerative resource. Second, some chemical substance in the processing can be recycled, reducing pollution.
Functionality of bamboo fiber
1. Bacteriostasis property of bamboo fiber
The bamboo element contained in bamboo has properties of bacteriostasis which means no pesticide and fertilizer are needed during the growth of bamboo and which has no occurrence of warm damage and rot. Therefore, we concluded that the bamboo has nature properties of bacteriostasis and deodorization.
2. Excellent moisture absorption and permeation of bamboo fiber
The section of bamboo fiber is a hollow network structure and because of this particular structure the water can be absorbed quickly into inner chamber of fiber and expelled. The function of moisture absorption, moisture releasing, air permeation and so on of bamboo fiber are all at the topmost of various textile fibers.
3. Excellent comfort
Bamboo fiber has excellent moisture absorption and air permeability, therefore the excessive heat and moisture can be absorbed and expelled into the air. Bamboo fiber textiles have soft hand-feeling, excellent skin care ability and comfortable skin sensation.
Bamboo fiber for filling and spinning 
 
Natural original bamboo fiber
spec: 1.2d*38mm,1.5d*38mm
use:spining yarn,socks and garments,towel
Bio bamboon fiber